'Colours' poplin fitted long sleeve shirt
A men's fitted Poplin shirt that offer a fashionable slim fit style. This shirt comes with an optional chest pocket for attachment if required. A stiff formal cut collar with double buttons to the cuff. Available in our bestselling colours from the Premier 'Colours' collection. Washing Instructions Domestic wash at 40°c.
£13.98
including VAT 20.00% ( £2.33 )


'Colours' satin clip tie
A clip-on tie suitable for those who require a quick and easy application of workwear. Available in forty colours, this tie attaches on to the collar with a steel clip and hangs to a length of 50cm. Dimensions Narrow blade width - 3.34"/8.5cm Washing Instructions Domestic wash at 40°.
£10.70
including VAT 20.00% ( £1.78 )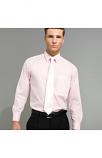 'Colours' satin tie
Available in forty colours, this tie has a satin feel to it and has a blade of 8.5cm with a total length of 144cm.Washing InstructionsDomestic wash at 40c
£9.50
including VAT 20.00% ( £1.58 )